At 24/7 Dealer Training San Diego, we view your education as an investment towards becoming a licensed car dealer. We offer used car dealer license training and certification accross the state of California and have 2 physical offices located in San Diego.
Our instructors are all retired car dealers and have a minimum of 2 years of training directly from a retired DMV inspector of over 28 years.
Our classes cover the required 6-hour course required by the DMV and we cover:
Civil Code
Vehicle History Disclosure
Vehicle Financing
Truth in Lending
Sales Tax
Division 12 Safety
Advertising
Odometers
Licensing and Registration
Unlawful Dealer Activities
Air Pollution Control Requirements
Regulation of the Bureau of Automotive Repair (BAR)
Handling, Completion and Disposition of Departmental Forms
Basic License Requirements – Branch Locations
Use of Special Plates (Memo provided in class)
Federal Buyers Guide – Warranties
Stolen Vehicle Prevention
DMV Enforcement Actions
National Motor Vehicle Title Information System
Red Flags Rule
Buy here pay here dealer laws
Class Includes: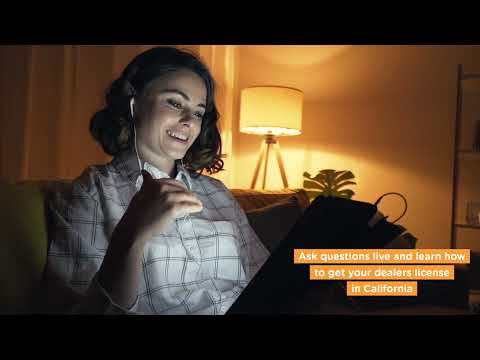 Take home detailed lesson plan for future use.
Required signs for Retail Dealerships.
One (1) year consultation.
Useful handouts for your business.
DMV Forms and order form.
Use and Misuse of Dealer Plates Memo.
Business Referrals for Registration Services, NMVTIS Provider, Bond Companies, Forms List.
Licensing Inspector Office locations.
For a full list of Frequently Asked Questions please visit our California Used Car Dealer Certification FAQs.