Here's why 24-7 Dealer Training Sacramento is #1 for auto dealer education in Northern California...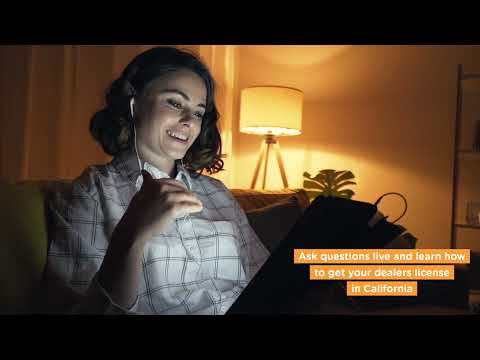 Flexible training options:

Come to our training facility in Roseville, take your course online, or have one of our highly skilled instructors come directly to you for private training.

Each student gets one YEAR of free consulting over the phone with their instructor. If you've got questions, we've got answers! At 24-7 Dealer Training, your success is our highest priority.
EVERY STUDENT PASSES - 100% GUARANTEE:

That's right at 24-7 Dealer Training Sacramento all of our students have passed the test! Why? We take the time to ensure that each and every one of our students is prepared to take the test and have helpful ways of retaining the information.

Looking for help with your paperwork?

Our experts can take the pain and hassle out of filing your Occupational Licensing Application. Call us today to learn more.

Want us to do everything for you? Start to finish?

At 24-7 Dealer Training Sacramento we offer a deluxe package that handles everything from:

The dealer education class
DMV Paperwork
Incorporating
Business Licensing
Finding your location
EVERYTHING SHORT OF SELLING YOUR FIRST CAR – CALL US TODAY FOR DETAILS (916) 245-2526
The car industry can be a very exciting yet confusing line of work. Without the proper guidance, you can end up spending thousands of dollars towards the wrong tools needed to get started in the industry. That's why at 24-7 Dealer Training Sacramento we take the time to make sure you have the necessary tools to be successful in the industry.
We help you make helpful check lists for daily operations:

What forms do I need to conduct retail sales?
What forms do I need to conduct wholesale car deals?
How do I order these forms?
Are there companies that sell these forms? If so, where can I get the best deals
We've already done the homework for you so all you need to do is follow the guidance and forms we've created for you in our teaching materials to ensure you're in full compliance with the DMV
Should I use a computer program to manage my inventory?
We have many existing relationships with inventory management software companies that will help ensure not only that your inventory is neat and organized, but that you print out the proper paperwork every time you sell a car.
What kind of insurance do I need to conduct sales?

Do I need a bond to get my dealers license? How much does it cost? Where can I find the best deals?
At 24-7 Dealer Training Sacramento, we have existing relationships with insurance providers that help you create relationships with companies you can trust and that will ensure you get the best value on the market.
For a full list of Frequently Asked Questions please visit our California Used Car Dealer Certification FAQs.